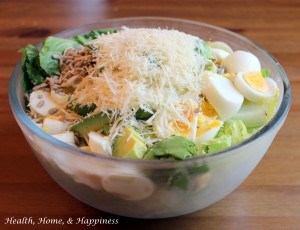 It was super hot last week and all I've been wanting to eat is fresh fruit and salad.  To make salads filling enough to be a meal I like to add hard boiled eggs, cubed chicken, parmesan cheese, and avocado to greens and other veggies.  Cucumbers, grated carrots, and different kinds of cheese also make great additions to what we did here, just use the recipe below as a starting point.
Protein Filled Salad (GAPS, Keto friendly)
 
Protein Filled Summer Salad Print Prep time 20 mins Total time 20 mins If you have leftover meat from grilling, this salad goes together for a good protein-filled meal and no heating up the kitchen! Author: Cara Comini Cuisine: keto, primal, gluten-free, GAPS Serves: 4 Ingredients 3 hearts Romaine, sliced across 1 avocado, cut into slices 1 chicken breast, coooked and cubed 5 hard boiled eggs, sliced ½ cup shredded parmesan cheese ½ cup sunflower seeds Ranch Dressing Toss all ingredients. If you're not going to eat it all at once, top each serving with dressing individually. Directions If needed, make ranch dressing (here) and boil eggs (here) Layer all ingredients in a large bowl, or set ingredients out on a plate so everyone can top their lettuce with the toppings they desire. If you're not going to eat it all at once, top each serving with dressing individually. Notes Net carbs: 6 Nutrition Information Serving size: ¼ Calories: 365 Fat: 25 Carbohydrates: 12 Fiber: 6 Protein: 25 3.5.3226
Other gluten-free, low-carb, simple and delicious salads:
Broccoli Salad
BLT Salad
Bacon Cheeseburger Salad
Confetti Noodle Salad with peanut sauce
For more nourishing salad ideas, check out Fresh by Kimi Harris of Nourishing Gourmet!
The post Protein-Filled Summer Salad (Keto, GAPS) appeared first on Health, Home, & Happiness.
Read more: healthhomeandhappiness.com